AMSOIL Outperforms the Competition
Since the introduction of the World's First 100% Synthetic Motor Oil in 1972, AMSOIL has become the benchmark for motor oil quality & performance. AMSOIL is specially formulated to protect engine components, reduce emissions, last longer, reduce fuel consumption & environmental pollution. From the beginning, AMSOIL synthetics have outperformed every other conventional & synthetic motor oils. AMSOIL is "The First" & still "The Best" in synthetic lubricants.
AMSOIL Offers Superior Alternatives in Every Segment!



AMSOIL offers superior alternatives to products offered by the competition. AMSOIL OE Series Motor Oils outperforms & replaces all regular drain interval products such as Castrol Edge Syntec, Castrol Syntec Blend, Castrol GTX SynBlend, Mobil 1 SuperSyn, Mobil 1 High Mileage etc. AMSOIL OE is priced competitively, below most synthetic & synthetic-blend brands. Now everyone can move up to AMSOIL quality & protection.
AMSOIL Line of Extended Drain Motor Oils


In the recent years, competitors have introduced extended drain technology motor oils ranging from 7,500 miles to 15,000 miles drain intervals.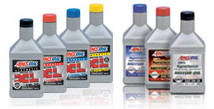 However, AMSOIL is the pioneers in extended drain technology in the World. AMSOIL is the first company to coin the phrase "extended drain" in 1973 by offering the World's first "extended drain" lubricants rated at 25,000 miles.
AMSOIL still is the World's best extended drain oil manufacturer. AMSOIL XL Series is rated at 10,000 miles or six months drain interval, AMSOIL 25K oils are rated at 25,000 miles or 1 year drain interval.
AMSOIL Line of Diesel Oils (with Extended Drain Capabilities)


AMSOIL manufacturers the most extensive line of diesel oils covering heavy duty diesel engines to the most modern European diesel specifications.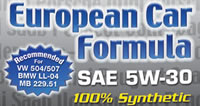 AMSOIL diesel oils are the preferred choice for commercial fleets as well as modern high performance & common rail European diesel engines made by Volkswagen, Audi, Mercedes Benz, BMW & Porsche. Covering specifications such as VW 502.00, 505.00, 505.01, 504.00/507.00, ACEA C3-04, C3, A3/B3-04, A3/B4-04, A3/B3, A3/B4, Mercedes-Benz 229.31, 229.51, BMW LL-04, Porsche C30 & more.
AMSOIL also manufactures the World's best Industrial Lubricants & other Essentials
AMSOIL is the World leader in Racing, 2 & 4 Cycle PowerSports & Marine Motor Oils