Product Applications
AMSOIL SAE 50 Long-Life Synthetic Transmission Oil is excellent for use in manual transmissions requiring an SAE 50 lubricant found in heavy-duty equipment. It is recommended for applications specifying any of the following:
Product Application Specs
• Eaton PS-164 Rev. 7
• API GL-1 and MT-1
• Navistar/International TMS 6816
• Mack TO-A Plus
• Volvo I-Shift
• ZF Freedomline
• Meritor 0-81
Product Description
AMSOIL SAE 50 Long-Life Synthetic Transmission Oil is specially formulated to meet the demanding requirements of manual transmissions found in high-torque, heavy-duty line-haul trucks and other commercial applications. Its synthetic base stocks and premium additives help reduce gear and bearing wear (see photos), improve shifting and extend transmission life throughout drain intervals of up to 500,000 miles/five years. Compared to conventional fluids, Long-Life Synthetic Transmission Oil can help operators reduce maintenance costs and increase productivity.
Year-Round Performance
AMSOIL Long-Life Synthetic Transmission Oil's high viscosity index translates into better high- and low-temperature performance compared to conventional fluids. In cold weather, it provides easier shifts and reduced fluid drag for increased fuel economy. Its exceptional thermal stability inhibits chemical breakdown and sludge formation at high operating temperatures to help transmissions run cleaner.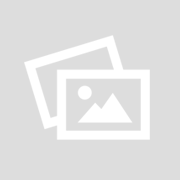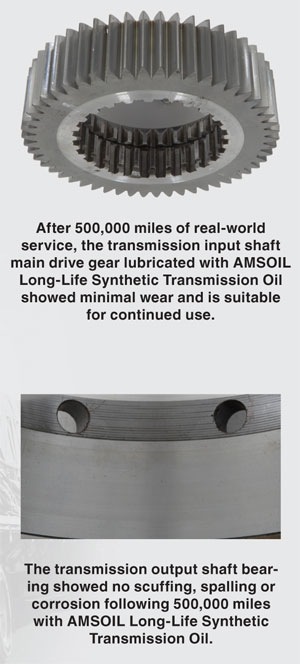 Resists Wear
AMSOIL Long-Life Synthetic Transmission Oil's synthetic base oils withstand the pressures of high-load, high-torque applications. As a result, it resists viscosity loss due to mechanical shear to provide a durable lubricating fluid film for increased wear resistance and longer transmission life.

To prove its effectiveness, AMSOIL installed SAE 50 Long-Life Synthetic Transmission Oil in line-haul trucks and placed them into real-world service.

After 500,000 miles, a transmission was disassembled and inspected by a calibrated ASTM rater. Results reveal Long-Life Synthetic Transmission Oil provided outstanding wear protection in all critical components. Examples include the input shaft main drive gear and output shaft bearing, which both earned high merit scores of 8 out of a possible 10 for wear. In addition, both components showed no scuffing, spalling or corrosion, scoring perfect 10s in all areas.
Inhibits Foam
Churning gears introduce air into the fluid, causing foam. When bubbles between gear surfaces collapse, metal-to-metal contact and increased wear result. Long-Life Synthetic Transmission Oil contains foam inhibitors to ensure formation of a strong lubricating film and excellent wear protection.
Seal Friendly
Long-Life Synthetic Transmission Oil is compatible with seals to help prevent leaks and extend seal life.
Service Life
Follow the OEM drain interval for synthetic oil up to 500,000 miles or five years, whichever comes first.
HEALTH & SAFETY
This product is not expected to cause health concerns when used for the intended application and according to the recommendations in the Material Safety Data Sheet (MSDS).
Click here to view the MSDS Data Sheet for AMSOIL FTF.
Keep out of the reach of children. Don't pollute. Return used oil to collection centers.