AMSOIL OE - Synthetic Original Equipment Oils
SAE 5W-20 OE
Synthetic Motor Oil

SAE 5W-30 OE
Synthetic Motor Oil

SAE 10W-30 OE
Synthetic Motor Oil

SAE 15W-40 OE
Synthetic Diesel Motor Oil
Recommended Oil Filters
| | | | | |
| --- | --- | --- | --- | --- |
| Nanofiber Oil Filters (EaO) | | MANN-FILTER - Oil Filters | | WIX Oil Filters |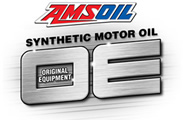 AMSOIL OE is a new line of motor oils introduced last quarter of 2010. OE stands for "Original Equipment", it is designed as a direct replacement for OEM oils (Original Equipment Manufacturer).
Since 1973 AMSOIL has been the industry leader in manufacturing extended drain 25,000 Mile (or greater) synthetic motor oils, AMSOIL is still the leader in this extended drain segment by offering AMSOIL XL 10,000 mile/6 months oil & full line of 25,000 mile/1yr motor oils.
However, 92% of the synthetic motor oil market is occupied by "regular drain" or OEM suggested drain interval products. This is due to higher initial cost of "extended drain" motor oils, concerns about new car warranty & the installer market (quick lube centers) prefer OE type oils.
AMSOIL Now Offers Superior Alternatives in Every Segment!


Until now, AMSOIL the pioneer in "extended drain" interval motor oils did not offer high quality alternatives to "regular drain" oils such as Mobil 1, Castrol Syntec etc. On the other hand, automotive manufacturers are increasing standards, specifications & drain interval requirements for OEM motor oils. Both combined makes it compelling to introduce a line of very high quality synthetic oils to fulfill OEM specifications, drain intervals & customer request at an affordable price.

AMSOIL now offers you superior alternatives to conventional brand name products. AMSOIL OE Series Motor Oils outperforms & replaces all regular drain interval synthetic (& non synthetic) oils such as Castrol Edge Syntec, Castrol Syntec Blend, Castrol GTX SynBlend, Mobil 1 SuperSyn, Mobil 1 High Mileage etc.
AMSOIL OE gasoline motor oils are API SN certified, ILSAC GL-5 & recommended for GM Dexos1 applications. AMSOIL OE oils can be used exactly as specified by the owners manual or oil monitoring system.

Now everyone can move up to AMSOIL quality & protection! OE range is offered in 5w20, 5w30 & 10w30 viscosity for gasoline engines and 15w40 CJ-4 diesel motor oil for modern and older diesel engines.
AMSOIL OE is priced competitively, below most synthetic & synthetic-blend brands. Now everyone can move up to AMSOIL quality & protection. Pricing guidelines are based on
wholesale cost
when purchased by the case of 12 quarts (12 x 946ml).