AMSOIL Racing
Video Highlights
AMSOIL Racing - PowerSports
AMSOIL Snocross Series Championship Races
2010 AMSOIL World Championship Races - Eagle River Derby
Video Montage of the Geico PowerSports
2009 AMSOIL Sandbox Arena
AMSOIL Racing - Super Trucks
2010 Traxxas TORC Series presented by AMSOIL
Traxxas TORC Highlights
AMSOIL/Kumho Super Team - Chad Hord & Scott Douglas
Wrap Up Interview with Chad Hord
Wrap Up Interview with Douglas Crandon
AMSOIL Kumho Super Team Perris
AMSOIL Racing testimonials
Bobby Unser, former Indy Champion - "Just Change"
AMSOIL TORC Racing Testimonial - Mike Oberg
AMSOIL Snocross Racing Testimonial - DJ Eckstrom
Bobby Unser, former Indy Champion - "Friction is Heat"
Bonicelli Racing Racks up NASCAR Wins with AMSOIL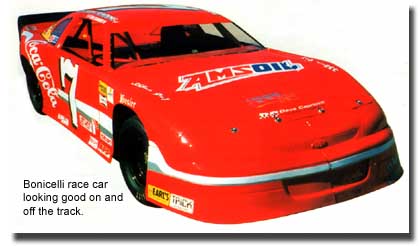 Bonicelli Racing Enterprises is comprising an impressive record among the NASCAR Featherlite Southwest Circuit. Mike Bonicelli, owner of the team, refuses to use any other brand of oil.
"I own NASCAR race teams and a car dealership in Colorado Springs," said Bonicelli. "I have been a long time user of AMSOIL products in both enterprises. AMSOIL synthetic lubricants are required items for my late model race cars and the tow vehicles hauling these cars. My service department at the dealership is required to feature and use AMSOIL products. From dependable, high speed lubricants to hand cleaner, we rely on AMSOIL to get the job done."
AMSOIL Lubricated Four Cylinder Sets World Record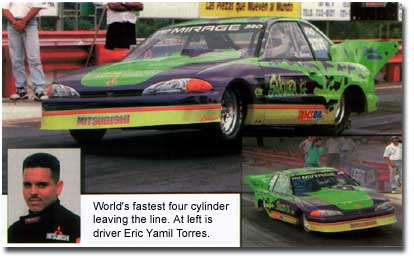 At the Pan-American Nationals in Atca, New Jersey, Antonio Torres, owner of Sakura, a 1995 Mitsubishi Mirage, watched his son Eric Yamil blast through the quarter mile in 7.97 seconds at 168.30 miles per hour. It was the first four cylinder powered vehicle to break the seven second barrier. Torres says that AMSOIL lubricants played a vital role in the car's record breaking performance.
"During my life as a runner, I've used a lot of different oils and additives in hopes of improving my engine performance," said Torres. "Once we installed AMSOIL Series 2000 75W-90 Gear Lube and the AMSOIL Racing Grease, we noticed a much more responsive machine. This was proven when we broke the world record in July of '97. We are making small changes and adjustments, expecting that with AMSOIL products we will be able to push the machine to its absolute maximum. We believe we'll be able to break the record again."
AMSOIL RACING

Ben Wandahsega
Driver
Ben Wandahsega
Racing Class
CORR Off-Road Sportsman 2
Hometown
Bark River, MI

Sponsoring
AMSOIL Dealer


Ron Wright
Notes
Won back to back rounds in 2003
2003 5th Place in Points - Sportsman 2
2002 4th Place in Points - Sportsman 2
2001 4th Place in Points - Sportsman 2
Testimonial

Dear AMSOIL:

I can't say enough about your synthetic oils! Since we have made the switch to AMSOIL two years ago, our off-road racing team has made great improvements. We've had zero motor failures due to lubricants, the only problem we did have was a broken lifter, during the 2001 season. This year the motor ran perfect all year, the oil temperature was at 270° a couple times due to mud in the radiator, and yet everything looks fine. Dan from Wegner Automotive Research says, "The AMSOIL 20W-50 synthetic racing oil is awesome." The transmissions have also been perfect. ATD is very happy with the performance of the AMSOIL synthetic transmission fluid. We've run the last two years with no problems from the transmission.

A huge thanks to you and the staff at AMSOIL for making a great product, we're looking forward to the 2003 racing season.

Ben Wandahsega

Photos Courtesy of J & L Photo
| | | |
| --- | --- | --- |
| | | |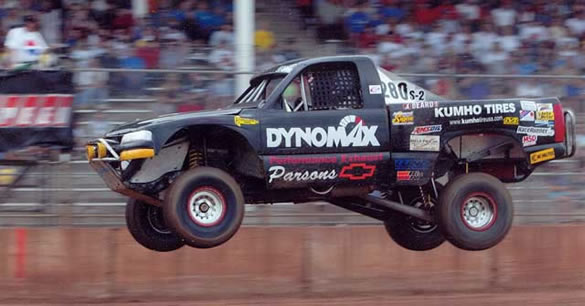 Driver
Mike Oberg
Racing Class
Sportsman 2
Hometown
Simpsonville, SC
Sponsoring
AMSOIL Dealer

Mark Neimuth
Results

2003 - 2nd in Points - Sportsman 2
2002 - 3rd in Points - Sportsman 2

Oh Boy! Oberg

Running down the list of AMSOIL Products that Mike Oberg Motosports uses is like letting your fingers to the walking through the company retail catalog. Series 2000 20w-50 Racing Oil, Antifreeze, Series 2000 Racing Grease and Gear Lube, Supershift, Shock Therapy and more. The team even uses 5w-30 Heavy Duty Diesel Oil in the semi tractor.

The team switched to AMSOIL Series 2000 oil in the early 90's thanks in part to the insistence of AMSOIL Dealer Mark Niemuth. "Since switching to the various AMSOIL products we have experienced a considerable difference in operating temperatures and wear patterns. There has been at least a 30 percent improvement in these areas," reports Team Manager Mark "Gilly" Gelhausen. Near mid-season the Oberg Team blew a transmission seal on their Dynomax/Kumho/AMSOIL Chevy truck. That sort of thing will happen when you beat a truck into the ground week in and week out through 14 rounds of competition. Apparently when the transmission builder got a look at the problem he asked if the tranny had even been run because there was "no wear at all." According to Gilly, "We've heard pretty much the same story from our engine builder. That's why we will always be loyal to AMSOIL. When something works you stay with it."




Photos Courtesy of J & L Photo