2016 5W30 Oil Comparison TEOST 33c Results
Stop Engine Sludge with AMSOIL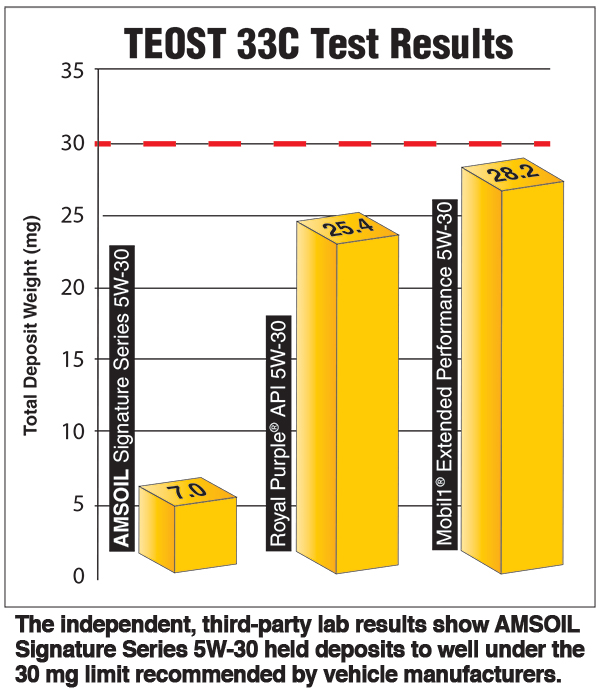 For the last several decades AMSOIL has utilized independent ASTM labs to put to test and compare motor oils.
Just to prove that the "new and improved" and "revolutionary" formulas advertised by the competition is nothing more than marketing hype as well as false and deceptive information to the consumer.
It is also worthy to note that AMSOIL is the only company to release these empirical data to the public.
In 2016, AMSOIL commissioned comparative motor oil testing again, however, this time the test is razor focused comparing three top end motor oils subjecting to ASTM TEOST 33C test to determine a motor oils ability to prevent sludge under extreme heat.
AMSOIL Signature Series 5W30, Royal Purple API 5W30 and Mobil1 Extended Performance 5W30 are compared and the results follow patterns that we have seen in the past tests such as this 2005 motor oil test and 2013 test results.
Motor Oil & Extreme Heat = Deposits (aka sludge)
Under extreme heat and internal mechanical stress, motor oils breaks down and boil off leaving behind deposits (sludge) that eventually cause various performance and wear related problems. Evolutions in automotive technology that pushes towards fuel-efficient yet more powerful and smaller engines has driven the development of several key technologies such as gasoline direct injection (GDI) and turbochargers. These two key technologies has taken the heat and internal engine stress factor to a new level.
By 2020, industry experts predict that nearly every new vehicle will feature GDI technology, and the vast majority will be turbocharged. While these advanced technologies enhance performance, they also present serious challenges to motor oil. Using the best motor oil is no longer a good idea but mandatory.
The Turbocharger Trade-Off
Turbochargers push more air into the engine's combustion chamber, providing better fuel-economy and performance but also creating intense engine temperatures. Turbo's often operate above 150,000 rpm on exhaust gases exceeding 1000°F. As turbo's are lubricated and cooled by motor oil circulation, these extreme heat can cause most motor oils to break down and solidify into harmful deposits. Especially, when the engine is turned off after a commute, the motor oil that is trapped inside the turbo housing literally gets cooked under extreme heat, breaking down the chemical properties which accelerating deposits and sludge.
Vehicle manufacturers have long recommended different service intervals based on "normal" or "severe" driving conditions. Turbocharged vehicles are automatically included in the severe service category due to the extreme heat they generate. Motor oil with unique properties is required to combat the effects of intense temperatures.
Proof of Protection
AMSOIL Signature Series 5W-30 Synthetic Motor Oil was tested against two competing brands to determine its level of protection against deposit formation in high-heat applications.
The TEOST 33C test (ASTM D6335) is an industry-standard bench test that simulates turbocharger operating conditions. According to the American Society for Testing and Materials (ASTM), it is "designed to predict the high temperature deposit forming tendencies of an engine oil." To meet the API SN Resource Conserving and ILSAC GF-5 motor oil specifications that are often recommended by vehicle manufacturers, a 5W-30 motor oil must limit total deposit formation to 30 mg or less.
AMSOIL Signature Series 5W-30 Synthetic Motor Oil held the total weight of deposits to 7 mg, well under the 30 mg limit required by the API and ILSAC, while Royal Purple® API 5W-30 and Mobil1® Extended Performance 5W-30 came in just under the limit at 25.4 mg and 28.2 mg respectively.
AMSOIL Signature Series 5W-30 Synthetic Motor Oil protects against harmful deposits on turbochargers 4X better than Mobil1® Extended Performance and 3.6X better than Royal Purple® in industry-standard testing*.
*These tests are based on independent, third-party testing of AMSOIL® Signature Series 5W-30, Mobil1® Extended Performance 5W-30 and Royal Purple® API 5W-30 in the ASTM D6335 bench test required by the API SN Resource Conserving specification.
Test results represent the formulations available as of April 2016. Formulations were coded to eliminate bias during testing and samples were tested in random order. An appropriate number of trials of each oil were run to produce results at or above the 95 percent confidence level when compared to AMSOIL Signature Series 5W-30 Synthetic Motor Oil.
Numbers Do Not Lie
AMSOIL, the pioneers in synthetic lubrication since 1972 has been touting its superiority and long-term protection and savings. After 4 decades AMSOIL is still standing tall not only as the pioneers in synthetic lubricants but also in engine protection and performance. No one makes lubricants like AMSOIL.