Mothers® Power Products

Mothers® Power Products are the first and only car care formulas specifically designed for consumer machine (random orbital, rotary and dual-action) application. These products were created from the start to be used with power buffers, unlike other products that are designed for hand use but later modified to be machine compatible.
---
The patent-pending* Mothers® PowerBall™ is the first foam polishing tool designed to revitalize billet, diamond plate, polished aluminum, stainless steel, plastic lenses, convertible top windows and much more. Ideal for use with plastic, chrome, aluminum and billet polishes. When used with Mothers® PowerMetal™ polish, the PowerBall™ is ideal for use on any uncoated, polishable metal finish. Its unique and durable construction compresses to fit tight spaces, so polishing difficult, intricate metalwork to a mirror-like finish is fast and easy.
Stock Code: 05140
---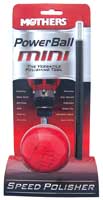 Mothers® PowerBall Mini™
The PowerBall Mini™ takes intricate, hard to reach, tedious polishing jobs and makes them easy. It retains the PowerBall's™ signature speed, ruggedness and versatility, while adding reach and pinpoint accuracy for those knuckle-busting jobs. It's perfect for polishing wheels, diamond plate, taillight lenses, engine components, and much more.
Stock Code: 05141
Includes a 10" extension
---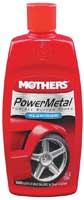 An extraordinary liquid metal polish for use by hand or with the revolutionary Mothers® PowerBall™ polishing tool. Mothers® PowerMetal™ polish is great for all polishable metals, including aluminum, brass, stainless steel, gold, silver and more.
Stock Code: 05148
Available in 8 oz. bottle and cases of six bottles
---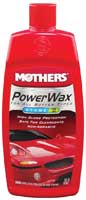 PowerWax™
Designed for use specifically with a random orbital or high-speed buffer, Mothers® PowerWax™ is a sophisticated formula designed to achieve a deep, wet, glowing shine. Activated by the mechanical action of a buffer, our PowerWax™ provides a deep, long-lasting shine. It's the perfect follow-up to PowerPolish™.
Stock Code: 08716
Available in 16 oz. spray bottle and cases of six bottles
---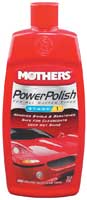 PowerPolish™
Get that perfect mirror-like depth, clarity and finish that, until now, only a professional could provide. Designed for use with a random orbital or high-speed buffer, its carefully blended ingredients refine themselves during use to provide a uniform finishing process. Mothers® PowerPolish™ is versatile and may be used with pads and bonnets of varying aggressiveness.
Stock Code: 08616
Available in 16 oz. bottle and cases of six bottles