World's Best Oils & Filters for 2002 SUBARU IMPREZA
2002 SUBARU IMPREZA
2.0L 4-cyl Engine Code EJ205 Turbo
Year:
2002
Make:
SUBARU
Model:
IMPREZA
Engine:
2.0L 4-cyl Engine Code EJ205 Turbo
Fuel:
Gasoline
We know your SUBARU IMPREZA
& We have the World's Best Oils, Filters & more!
AMSOIL manufacture's the World's Best Synthetic Lubricant's & Filters Since 1972. AMSOIL also offers substitute brands such as WIX, Donaldson, NGK & Trico wiper blades (where available) to make our web site a one stop shop for most automotive maintenance needs.
How do I use this Product Cross Reference Guide?
Product Cross Reference Guide:
This product cross reference guide follows recommendations outlined in your owners manual and also reflects periodic service recommendation updates from the original equipment manufacturer for this particular model (2002 SUBARU IMPREZA with engine code EJ205)
show example...


For example, the manufacturer may have recommended 5W30 motor oil at the time of production (owners manual) & later revised the recommendation to 5W20. This guide will reflect latest recommendation by the manufacturer for this model. If there are no special instructions from the manufacturer, the owner can choose to follow either one of the recommendation without voiding warranty

hide example

.

Optional Equipment Listing
This guide lists all available equipment options such as transmission options, differentials etc. for 2002 SUBARU IMPREZA with engine code EJ205

hide

.

Product Availability Listing
This guide lists all available AMSOIL & substitute brand products that meet or exceed OEM (SUBARU) recommendation for each equipment. Any one of the recommended product can be used. One may be better than the other, you can review product details & price or contact us to ask our opinion pertaining to your usage and preference

hide

.

Operating Temperature
Original equipment manufacturer (OEM) sometimes provide different product recommendations based on operating environment temperature for a given equipment. This product cross reference guide will list such recommendations based on OEM guidelines. Some OEM recommended viscosity pertaining to a specific temperature range may not be available from AMSOIL.

However, AMSOIL products recommended for another temperature range can be safely used because AMSOIL synthetic lubricants are engineered to provide exceptional performance for significantly broader temperature range when compared to conventional & or other brand synthetic oils. For more information on a lubricants cold temperature performance; please refer to "Pour Point" from "Technical Properties" table located at the bottom of each lubricant product page

hide

.

Last Updated
This product cross reference guide for 2002 SUBARU IMPREZA engine code EJ205 was last updated on 13th February 2011

hide

.
Engine Oil

Grade 1 » SM

SUBARU TURBO SPECIAL MESSAGESubaru has published Service Bulletin # 02-103-07 that identifies a factory design related problem with premature clogging of the oil mesh screen located inside the oiling system that supplies oil to the turbo charger on all model turbo charged cars. A clogged screen will result in oil starvation and turbo charger failure.

As a solution, Subaru has reduced their recommended oil drain interval in half, from 7,500 miles to 3,750 miles (3-3/4 months) and requires the oil mesh screen to be inspected, and possibly serviced, at every oil change. With this Subaru factory related design issue, AMSOIL INC. therefore must recommend customers to follow the new Subaru oil change interval of 3,750 miles (6000 kms) or 3-3/4 months until Subaru resolves this issue.

Above -4 F » 10W-30, 10W-40

Above 95 F » 30, 40, 10W-50, 20W-40, 20W-50

[1]

Below 104 F » 5W-30

[2]

Manual Transmission

Automatic Transmission

Front Differential

Rear Differential

Power Steering Fluid

Brake Fluid

Clutch Fluid

Capacities (Drive Train Fluids)

Engine, without filter » 4.8 quarts

[1]

Cooling System, Initial Fill » 8 quarts

AMSOIL Antifreeze and Engine Coolant

Automatic Transmission, TV1A4 Initial Fill » Not Specified

[2]

Automatic Transmission, Total Fill

4 speed TV1A4 » 7.1 quarts

Manual Transmission, TY754 (5-SPD) » 7.4 pints

Differential, Front » 2.6 pints

[3]

Differential, Rear » 1.7 pints

[4]

Capacities Comments

[1]

Add extra oil when replacing filter. After

refill check oil level.

[2]

Measure quantity drained and refill with same amount

[3]

Front final drive is for automatic transmission only.

[4]

Rear differential is for 4WD models only.

Chassis Lubrication

0 Fittings, 0 Plugs


Torque Specifications

Manual Transmission
Drain Plug 30-35 ft/lbs

Filters: Oil, Air, Cabin, Fuel, Transmission, Hydraulic & Crankcase

Filter Comments

[1]

Spin-on Transmission

Gasoline Engine Fuel Additives

NGK Plugs & Wiresets

Trico Wiper Blades

0W-30 Signature Series (SSO)
AMSOIL Signature Series 0W30 Synthetic Motor Oil is the industry benchmark in lubrication technology. Engineered with the world's finest synthetic base oils and high performance additives, AMSOIL Signature Series 0W-30 is designed for those who...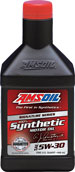 5W-30 Signature Series Synthetic Motor Oil (ASL)
AMSOIL Signature Series Synthetic Motor Oil delivers extraordinary lubrication in all types of automotive gasoline engines. By combining industry-premier synthetic technology with AMSOIL premium additives, Signature Series Synthetic Motor Oil exceeds...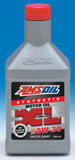 5W-30 Extended Life Synthetic Motor Oil (XLF)
AMSOIL XL Extended Life Synthetic Motor Oils provide better wear control, high- and low-temperature protection and increased fuel economy compared to conventional oils. Extended-Drain Boost Technology Package sizes include: 1-Quart Bottl...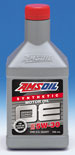 5W-30 OE Series Synthetic Motor Oil (OEF)
AMSOIL OE Synthetic Motor Oils help provide better wear control, high- and low-temperature protection and increased fuel economy compared to conventional oils. The oil drain interval recommendations for many of today's vehicles extend well beyo...

80W-90 Synthetic Gear Lube (AGL)
High quality replacement for applications specifying SAE 80W-90 conventional gear lube. Synthetic construction provides improved cold flow properties, high viscosity index and heat resistance. Contains an over treat of high quality additives, exceed...

75W 90 Severe Gear® Extreme Pressure (SVG)
Formulated for the severe operating conditions of today's pick-up trucks, SUVs, heavy equipment and other hard working vehicles. AMSOIL SEVERE GEAR® Synthetic Extreme Pressure (EP) Lubricants are premium grade gear oils specifically engineered...

75W-90 Semi-Truck Gear Lube (FGR)
Specifically engineered for extended drain intervals up to 500,000 miles as set by equipment manufacturers for over-the-road trucks and heavy equipment. Provides long life in passenger cars and trucks. Protects against wear and improves equipment li...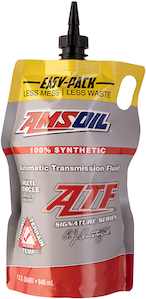 Signature Series Multi-Vehicle Synthetic ATF
AMSOIL Signature Series Multi-Vehicle Synthetic ATF is engineered to outperform conventional automatic transmission fluids and exceed the performance requirements of most North American, European and Asian vehicles. This sophisticated formulation pro...

Torque-Drive Transmission Fluid (ATD)
Formulated for Allison TES-295 or C4, DEXRON III, MERCON, Voith G-1363, ZF TE-ML 14C Engineered for outstanding performance in heavy-duty transmissions manufactured by Allison, Voith, ZF, Ford, GM and Mercedes-Benz. Excellent protection in tempera...

75W-110 Severe Gear® Extreme Pressure (SVT)
AMSOIL SEVERE GEAR® Synthetic Extreme Pressure (EP) Lubricants are premium grade gear oils specifically engineered for maximum performance in severe duty applications. These state-of-the-art AMSOIL formulations feature an exclusive blend of high ...

Series 500 DOT 3 Brake Fluid (BF3)
*** This item is available for US customers only *** AMSOIL now offers Series 500 High-Performance DOT 3 Brake Fluid. AMSOIL Brake Fluids provide superior high-temperature performance in auto/light truck, high-performance, racing and powers...

Antifreeze and Engine Coolant (ANT)
AMSOIL Antifreeze & Coolant (ANT) is formulated to provide benefits far beyond those found in today's conventional antifreeze and coolant products. This revolutionary formulation provides maximum antifreeze and cooling protection in the mos...

AMSOIL Ea Oil Filters
AMSOIL Ea Oil Filters feature synthetic nanofiber technology for maximum efficiency. Guaranteed for up to 15,000 miles or up to 25,000 miles, depending on application, when used with AMSOIL synthetic motor oil.

WIX Automotive, Light Truck & Racing Oil Filters
WIX Oil filters are made with full metal base plate for superior strength at the double seal & also feature a silicone anti-drainback valve. Glass enhanced media in WIX oil filters offers greater efficiency, capturing more 10 to 12 micron sized particles than other cellulose or synthetic blend medias.

AMSOIL Ea Air Filters
AMSOIL Nanofiber technology media removes 5 times more dust than traditional cellulose filters and 50 times more dust than wet gauze. Unmatched 4-year/100,000-mile guarantee for the auto/light truck market.

INJEN-AMSOIL Cold Air Intake Systems
INJEN-AMSOIL Power-Flow Cold Air Intake Systems for gasoline engines feature AMSOIL Ea Air Filters with Nanofiber Technology. This offers state-of-the-art filter efficiency while providing excellent protection and air flow.

WIX Automotive, Light Truck & Racing Air Filters
WIX panel element air filters have a linear path through the filter for low airflow restriction & an exclusive pocket pleat for the filter media. Radial air filters are constructed of mesh screen on the inside wall diameter for element strength and media protection from backfire.

WIX Cabin Air Filters
WIX offers high-efficiency cabin air filters for passenger cars, light trucks, heavy trucks, buses & off-highway vehicles. Trap & eliminate harmful microbes in the filter medium and reduce the opportunity for those microbes to be released into the air of vehicle occupants.

WIX Automotive, Light Truck and Racing Fuel Filters

WIX Fuel Filters provide an unmatched fuel cleansing performance. They prevent pump wear, injector clogging, premature engine wear and help boost fuel efficiency. Offer quick, easy filter replacement, long life and the possibility of extended service intervals.